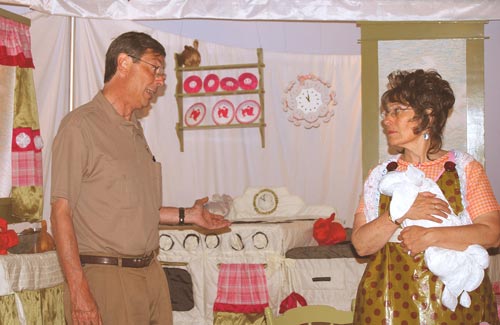 Veteran policeman Sergeant Michael O'Hare is called to the home of Mrs. Helen Ringwald. She welcomes him to her home, offering tea and an excess of conversation. But Sgt. O'Hare hasn't time for such pleasantries – he has been called to her home on official business. He has come to give notice: her pet bunnies – all 334 of them – are to be removed from her property by Animal Control. Responding to countless complaints from Mrs. Ringwald's neighbors, Sgt. O'Hare explains that the animals will be captured and removed the coming Thursday. Outraged by this decree, Mrs. Ringwald vows to defend the bunnies and her right to keep her "precious little ones."
What ensues is a humorous, sometimes poignant debate between Sgt. O'Hare and Mrs. Ringwald. Their sparring touches upon a range of issues including individual freedom, civil disobedience, and the nature of love itself.
Appropriate for adults and children, approximately one hour long.
The libretto is an original text by the composer and under copyright protection.
CAST:
SERGEANT MICHAEL O'HARE (baritone), a veteran policeman, 20 years of service
HELEN RINGWALD (contralto), well-meaning eccentric, really likes rabbits
ORCHESTRA:
violin, viola & piano